HONJOH Hidejiro shamisen
Wigmore Hall Recital

Sat 6 July 2019 1:00pm
Wigmore Hall
Tickets: £18 / £12
As the traditional Japanese instrument becomes increasingly popular, the 2019 Avex Recital Series will see the return of shamisen solo performer HONJOH Hidejiro. With his unique blend of visceral musicality and virtuosic technique, Hidejiro was the first shamisen performer to receive the prestigious Idemitsu Music Award. After blowing audiences away during his spectacular debut last year, he will perform the world première of Ryuichi Sakamoto's new composition.
Marios Joannou Elia: RED – world première
Dai Fujikura: neo
Ryuichi Sakamoto: New piece – title TBC
Vijay Iyer: Jiva
Kenjiro Urata: Hekitan II for shamisen
Yuji Takahashi: Hamlet to be or not (bass shamisen/recit.)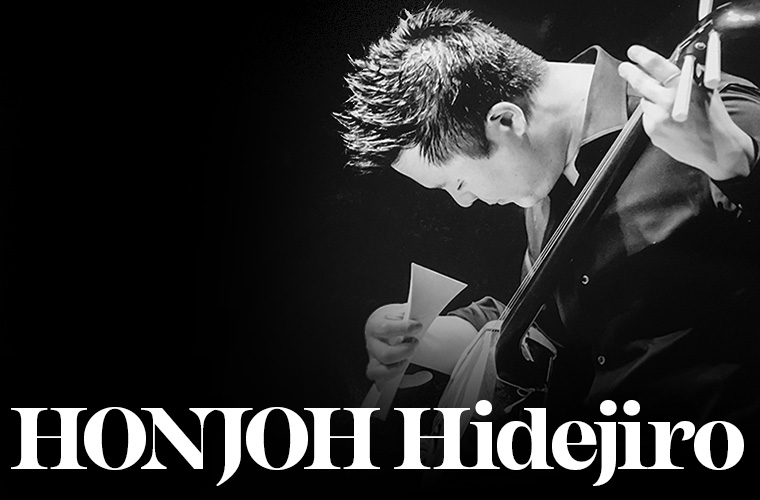 HONJOH Hidejiro
"… the restrained and subtle shamisen solo by HONJOH Hidejiro – designed to evoke the effect of a guitar in a rock concert – brought a beguilingly authentic whiff of Japan. This man deserves a solo recital to himself."
– Michael Church, The Independent, 19 February 2018
HONJOH Hidejiro was selected as one of the Japan Cultural Envoys in 2017, through which he held performances around the world. His New York performance, received high acclaim by the New York Times. He has collaborated with various international contemporary ensembles and was recently featured in an album of Ryuichi Sakamoto and Dai Fujikura. He strives to create new types of shamisen music and has commissioned numerous new pieces for shamisen. He has been the recipient of various awards and prizes, including the 70th Arts Festival New Face Award by the Agency for Cultural Affairs, and was the first shamisen performer to receive the prestigious Idemitsu Music Award in 2014 and the Kyoto Aoyama Music Award in 2018. In 2016, HONJOH was chosen as the Japan-United States Arts Program/Asian Cultural Council Kimpei Nakamura Fellow. Director Yukio Ninagawa describes of HONJOH Hidejiro, "His performance is at times graceful and delicate, but also tempestuous, powerful and fiery – it stirs one's deepest emotions."
HONJOH has studied both classical and contemporary style of shamisen under the tutelage of world-renowned shamisen performer and pioneer, Honjoh Hidetaro, and has graduated from Toho Gakuen College of Drama and Music, where he now serves as an Adjunct Instructor.